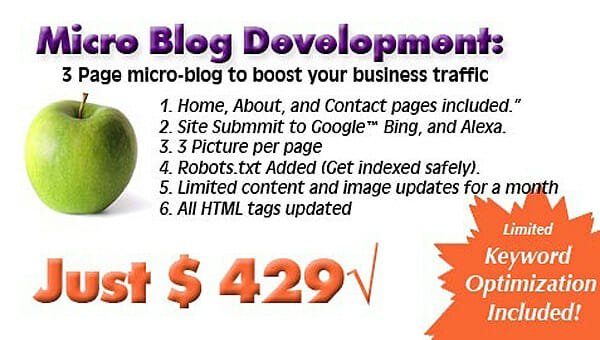 [product name="Micro-Blog and Micro-Site Development" brand="San Diego Webmaster Services" identifier="micro-blog-dev" description=" Micro Blog Development Special" price="$429.00″]Fantastic Opportunity to Launch Your Online Business for Very Little Money.[/product]
Micro-Blog and Micro-site development services: Fantastic Opportunity to Launch Your Online Business for Very Little Money. Use Our WordPress Development Services to Create an Online Presence for Next to Nothing. This is the Chance You Were Waiting for. Read on to find out why.
What is a Blog, or a Micro-blog?
Micro-Blog and Micro-site Development are the services you need when you either want to test a product, or start small. A Blog (a contraction of the term "weblog") is a type of website, usually maintained by an individual with regular entries of commentary, descriptions of events, or other material such as graphics or video. Blogs are widely used to maintain a closer contact with your client base, your fan base, or your potential clientèle. WordPress is our preferred blog platform for it's ease of use and extendability. Micro blogs or even one page blogs are a very popular way to use this powerful marketing tool.
What is its purpose?
Many blogs provide commentary or news on a particular subject; others function as more personal online diaries. A typical blog combines text, images, and links to other blogs, Web pages, and other media related to its topic. The ability for readers to leave comments in an interactive format is an important part of many blogs.
Why do you need one?
Blogs are one of the fastest ways to gain popularity for you, your service, or your personal opinions, your political views, your last addition to your front store etc, etc. Blogs keep you "fresh" in the mind of your readers and visitors. We know you want to make the right decision about your business. Use our Blog posts to learn important bits of information that will help you take the right decision about the website strategy you need to use.
Micro Blog Development Package
4 PAGE MICRO BLOG TO BOOST YOUR BUSINESS TRAFFIC
√ Perfect to help boost your website traffic and improve return on investment.
√ Perfect for those who are "just starting" to learn how to use the internet to boost their business sales.
√ Perfect for those that want to learn and use social media as a network and marketing tool.
Basic design, client selects template and provides all images and content.
Content and images limited to description below.
Please ask information about how to add more.
√ 'Home', 'About' , "Services" and 'Contact' pages included.
√ 3 pictures per page
√ Limited content and images updates for a month.
√ All HTML tags updated (headers, images, content, etc)
√ Site submmit to Google, MSN, and Alexa.
[dropcap2]W[/dropcap2]e have put together a micro-blog development package at an unbeatable cost. This is your "now or never" opportunity to get the website that you know you need to create the online presence necessary to do business successfully over the Internet.
[pullquote right]Get a 4 page Micro-blog for $429 and we'll give you one year FREE hosting and domain name.[/pullquote]
Buy your template using our affiliate link on the top left hand side that reads: Premium Website Templates from $10 dollars. You will be able to find something at the $10 dollar level for your Micro-blog, and you should be able to find something perfect for this kind of website among the themes in the $35 range.
I invite you to take advantage of our great offer: Micro-Blog Special, includes Hosting & Domain.
Yes! that's it's correct, includes your First Year of Hosting and domain name registration.
If you already own a domain name we transfer you domain for free.
Your blog includes your theme of choice exclusively from the following selection: Premium Website Templates from $10 dollars.
The following are examples of WordPress development we have done in the recent past.
[nggallery id=11]